What is Bounce It Forward?
The Bounce It Forward Program invites all individuals and organizations to 'pay it forward' by donating their excess tickets to high demand activities, including major league sports, concerts, theatre and other unique productions, for use by Bounce families.
How does the Bounce It Forward program help?
Bounce families do not have the luxury of planning ahead due to the harsh reality of never knowing when the next medical crisis will arise. But donated tickets enable them to take advantage of 'last minute' opportunities to attend high demand events, enjoying unexpected moments of fun and creating amazing memories.  Bounce It Forward events also restore the spirit and optimism of families experiencing the negative emotional impact of frequent medical intervention, and build long-term resilience.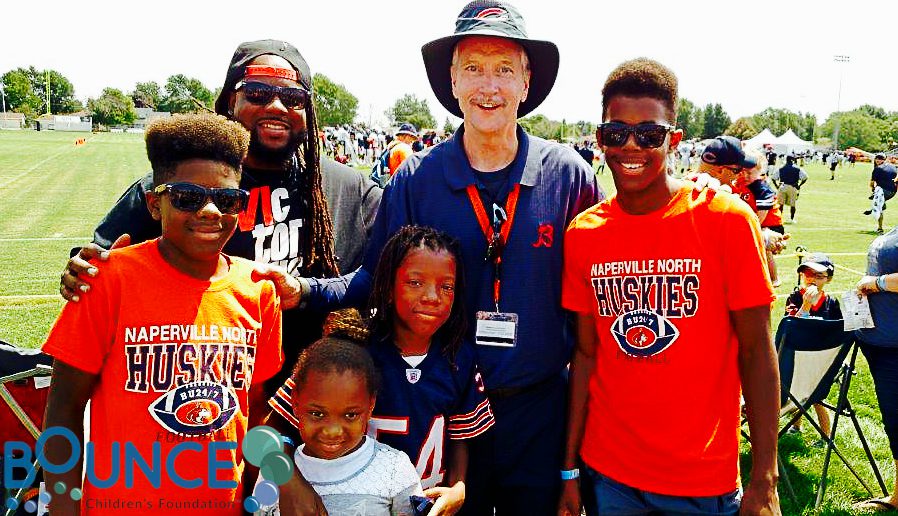 Favorite Bounce It Forward outings include:
Chicago Cubs Fan Convention
Chicago Bears Football Games
Chicago Bulls Basketball Games
Chicago Blackhawks Hockey Games
Chicago Cubs Baseball Games
Chicago White Sox Baseball Games
Concerts & Cultural Events
Broadway in Chicago and other Theatre Productions
Who can participate in a Bounce It Forward outing?
All Bounce families are automatically enrolled in the Bounce It Forward program and will be notified of each Bounce It Forward opportunity via Bounce Net®.
How much do Bounce families have to pay to attend a Bounce It Forward outing?
Absolutely nothing!  All Bounce programs and services, including Bounce It Forward, are offered free of charge to members.
How do families sign-up for Bounce It Forward tickets?
Bounce It Forward opportunities are posted in Bounce Net and families then request tickets via email. Bounce families can join Bounce Net by clicking here.
Who qualifies to be a Bounce family and can my family join?
Membership is available to all families with a child, under the age of 18, who has been diagnosed with a chronic disease and/or permanent injury, regardless of socioeconomic status.   When a child is diagnosed, the entire family is diagnosed, so we welcome – and serve – the entire family.  (NOTE: all family members must live in the same household.)  To join, simply complete our application by clicking here.   
How can I support Bounce It Forward?
There are a number of ways you can support Bounce It Forward, including:
You and/or your company can donate tickets to high demand events (major league sports, concerts, theater, unique productions and more!)
Spread the word and encourage others to donate tickets to Bounce It Forward. Click here for an easy to use sample email.
If you and/or your company have/has season tickets to a major-league sport team or performance, commit to donating a portion of your tickets per season.
We welcome all ticket donations and request donations be made two weeks prior to the event to ensure placement with a Bounce family.  A minimum of one week lead time before the event is required.
To learn about other ways to get involved with Bounce Children's Foundation®, please click here!