What are Bounce Back Kits?
Bounce Back Kits are care packages sent to member families' doorsteps to enhance coping when they are "locked in" at home.  Acting as "Inspiration-in-a-Box", Bounce Back Kits are both holiday and accomplishment themed and include fun activities for the entire family to do together.
How does the Bounce Back Kits program help?
Families with children battling chronic illness are often 'locked-in' at home (i.e.: before surgery, after treatment, during severe flare-ups, etc.) further disrupting their lives. Frustration, depression and anger can easily set in with all family members. These 'boredom busters' provide a valuable sense of relief as well as real togetherness at those times when it's extra difficult to bounce back from yet another setback.
Who can receive a Bounce Back Kit?
All Bounce families are automatically enrolled in the Bounce Back Kit program and are eligible to participate in the next round of Bounce Back Kits.
When do families receive a Bounce Back Kit?
When families join the Bounce community, they receive their first Bounce Back Kit as a welcome to Bounce.  They will also receive holiday themed Bounce Back Kits throughout the year  (i.e.: Valentine's Day, St. Patrick's Day, Mother's Day, Father's Day, Fourth of July (Independence Day), Halloween, Thanksgiving, Christmas/Hanukkah/Kwanzaa and more).
Most importantly, Bounce families can always request a Bounce Back Kit to provide moments of joy when they need it most: perhaps to celebrate a Bounce child's discharge from the hospital or successful completion of a round of therapy/treatment; or to recognize important events and milestones for a healthy sibling; or to celebrate a family birthday or anniversary; or as a general 'boredom buster' when locked-in at home yet again. 
What might be included in a Bounce Back Kit?
Bounce Back Kits contain fun items for the entire family:
Books & Magazines
Board Games
Arts & Crafts
Decorations
Coupons
Gift Cards
STEM Education Activities
DVD's & Movies
Recipes
Brain Teasers
Healthy Snacks
Something just for Mom & Dad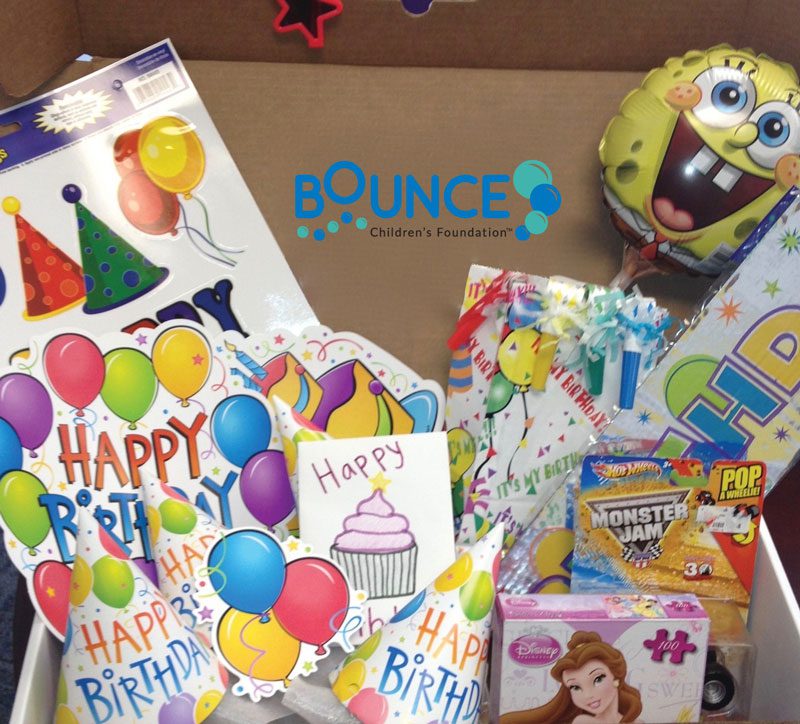 I am/my company is interested in sponsoring a Bounce Back Kit…
The cost to sponsor one Bounce Back Kit is $50. Your generous donation covers the entire cost of a Bounce Back Kit that is delivered directly to a member family's doorstep.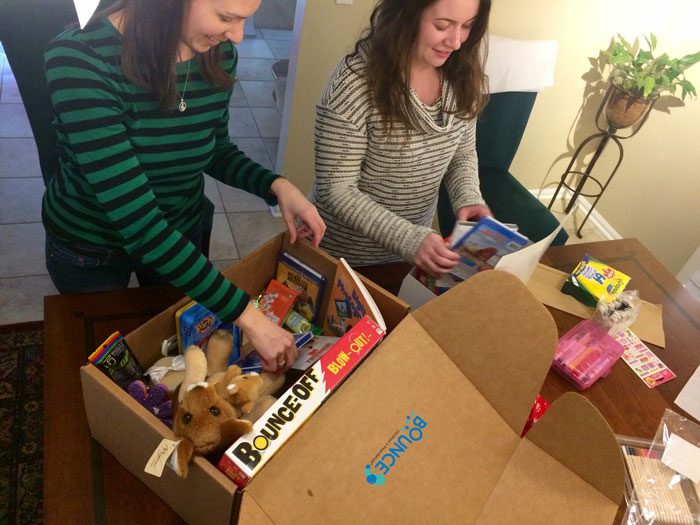 My company and/or group is interested in packing Bounce Back Kits…
Your company and/or group can help pack Bounce Back Kits. Groups can donate three to four hours of time can help personally pack Bounce Back Kits.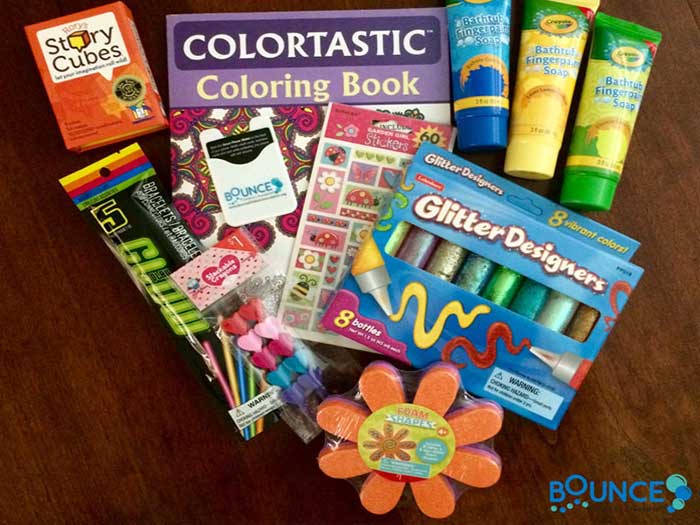 I am/my company is interested in donating items to include in Bounce Back Kits…
We welcome any donations of:
Books & Magazines – Healthy Snacks – Board Games – DVD's & Movies – Arts & Crafts – Decorations – Coupons – Gift Cards – Recipes – STEM Activities – Brain Teasers